An extract from Saabs internal magazine VIPS. No.5 1962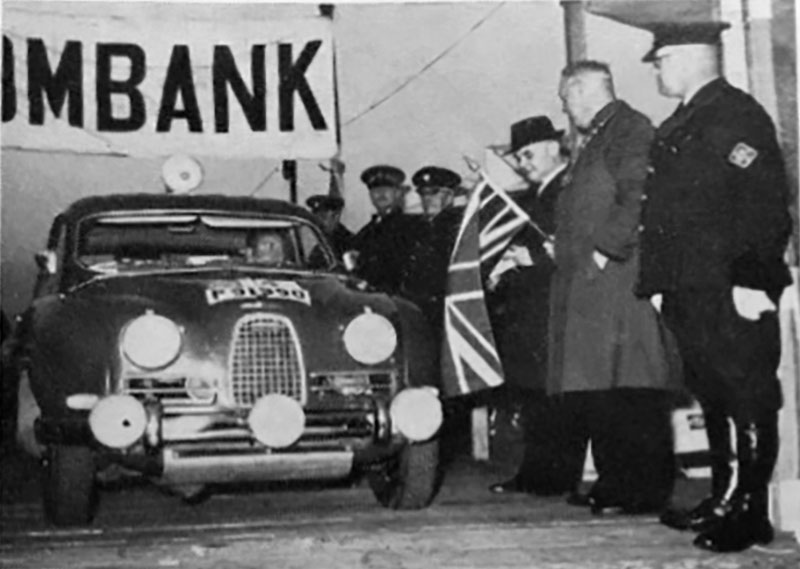 For the third year in succession Erik Carlsson in his works Saab has claimed victory in the prestigious RAC rally.
The English motoring press considered this victory for Saab as being completely sensational and an achievement which, most probably, will never be equalled …
When Erik took his first victory in the RAC rally in 1960, he was the first foreigner to win this documented tough competition.
In the photo above Erik Carlsson can be seen at the wheel of his Saab prior to being flagged off at the opening ceremony of the rally attended by the competition organisers, the Lord Mayor of Blackpool (holding the Union Jack flag) and several uniformed Royal Automobile Club (RAC) officials.
This year´s rally covered a total of 2236 miles (3600 km) starting in Blackpool on the English north-western coastline. The course demanded 80 hours of driving passing a total of fifty counties in Scotland and England towards the finishing line at Bournemouth on the English southern coast.
After starting in Blackpool, the competitors drove north towards the Scottish Highlands to tackle thirty-eight special stages which in most cases demanded driving on icy road conditions – perfectly suiting the Swedish driver Erik Carlsson in his Saab.
From the most northern section of the rally in Scotland the rally then headed southwards along England's eastern coastline before then heading west again to the earlier start at Blackpool.
The last stages demanded 29 hours of continual driving including sixteen speed stages over tricky snow and icy road surfaces throughout the rugged Welsh countryside.
In torrential rain Erik and his navigator David Stone finally arrived at the finish in Bournemouth several minutes prior to the arrival of the rest of the competitors – Erik used this time to his advantage to give his car a good wash down before taking the chequered flag in Bournemouth.