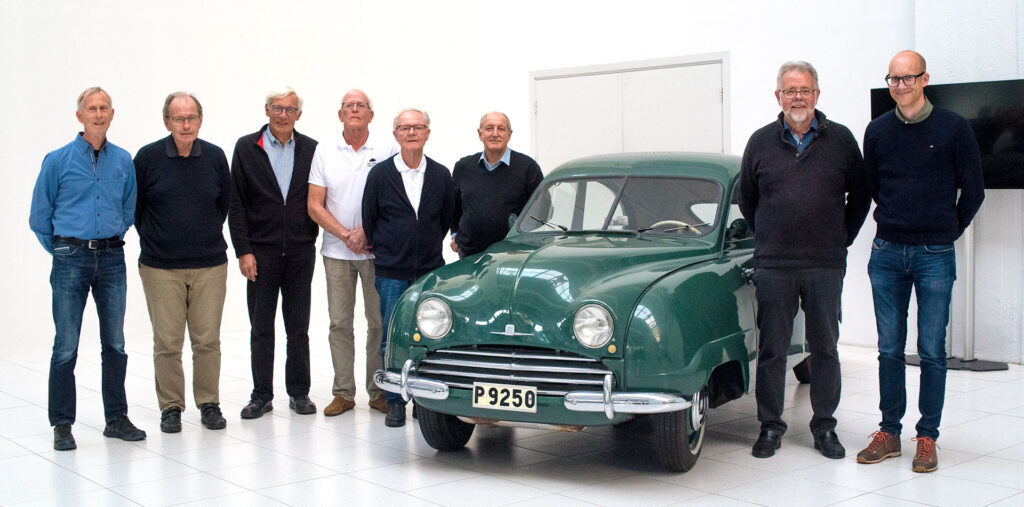 Saab Car Museum Support Organization is a non-profit organization whose purpose is to promote the Saab Car Museum. This will be done through a variety of activities to build economic means. These will be used to support the Museum activities, help funding mutually agreed projects and more. Members of Saab Car Museum Support Organization will by their membership support the Museum financially, but also have benefits like access to exclusive Saab-related materials such as archival images, articles and more.
One example of this is the Group 3 racing replica that the organization meticulously restored and then donated to the museum as an example of Saabs successful era in racing. The car is a replica of the car that Gösta Karlsson so successfully raced with in the 60's. As a member you can watch Ulf Andersson and Åke Zackrisson give a presentation about the project in the members only section. The Support Organization has also contributed to the publication of several books, among others, a book about Gunnar Ljungström, the man who started the car development and production at Saab, and his co-workers, during the period 1945-1969.
Saab Car Musuem Support Organization has set up two memorial funds to celebrate people who have done important achievments in these persons spirit.
Erik Carlssons memorial fund – The reciever should have done a significant contribution for "Saab history" within the motor sport field, and the achievement must have been carried out in the spirit of Eric Carlsson.
Hans Johnsons memorial fund – The reciever should have done an extraordinary Saab restoration in the spirit of Hans Johnson.
The Board
Chairman
Rickard Frick, Aftersales Director Hedin MG Sweden

Board members
Ulf G Andersson, Svenska Saabklubben
Lars-Olof Heligren, ex Body engineering, Saab.
Gunnar Johansson, former Project leader at Saab
Melker Persson, former Project coordinator at Saab
Bertil Andersson, former Project leader at Saab
Åke Zackrisson, Svenska Saabklubben
Henrik Olsson, Innovatum SC
Fredrik Schmidt, Graphic designer and communicator, earlier at ANA Trollhättan
Statutes
Saab Car Museum Support Organization statutes
Contact
You can contact the organization by email;
sscmsupp@gmail.com
Address
Åkersjövägen 18
461 53 TROLLHÄTTAN
Sweden