Stödföreningens projekt för att visa Saabs framgångar inom racing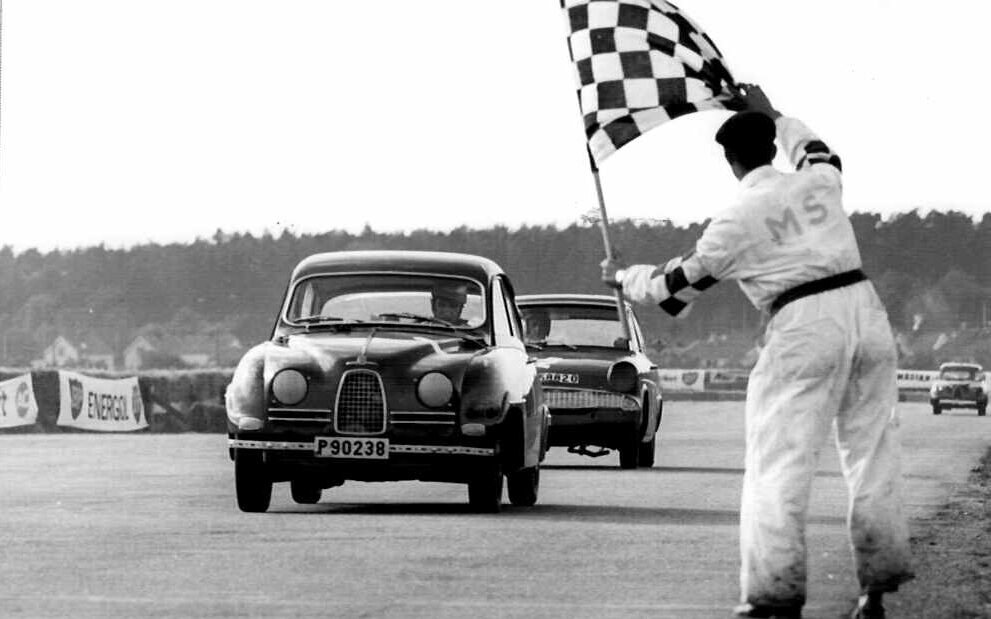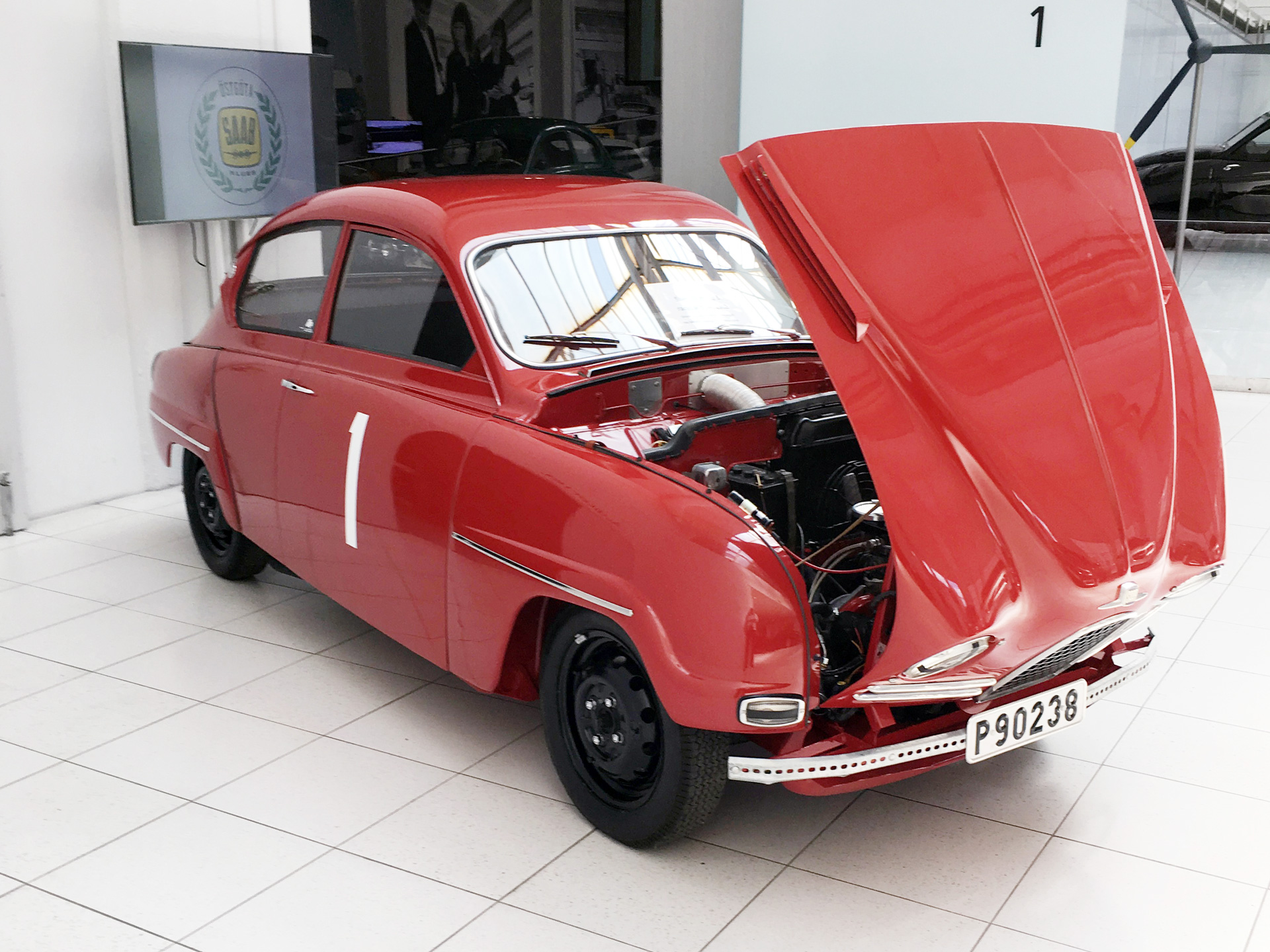 Background
During the 60's Saab didn't just compete in rally but was also very successful in racing. A fact that hasn't been reflected in the Museum collection. The Support Organization therefore decided to find and build a typical racing car from the era and donate to the Museum.
Between 1958 and 1966 Saabs factory competition cars were successful in several Swedish touring car championships. During the two-stroke era, a total of 7 championships were won on ice, and 9 on tarmac road surfaces. Throughout this period, Saabs foremost racing driver was Gösta Karlsson who competed in many Swedish and European championships. In a single weekend Gösta often competed in both Group 2 and Group 3 cars. On some occasions in 1961 he even drove the Saab Formula Junior.
New Swedish regulations introduced in 1960 divided Racing and Rally competitions into different groups i.e. Group 1 for standard cars, Group 2 for tuned cars and Group 3, being somewhat more flexible, allowed for tuned engines and a lighter gross vehicle weight where interior fittings could be removed etc. The Saab group 3 cars were also equipped with twin Solex carburetors and 4-speed gearboxes.
Today, Saabs early racing era is not fully depicted at the Saab Museum in Trollhättan and to our knowledge, there are no Group 3 cars preserved. To give this era the representation it deserves the support organization has dedicated a project to the purchase and conversion of a donor vehicle which will be used in creating a replica of Saabs 1962 championship winning Group 3 cars.
The donor car
In the summer of 2018 The Saab Car Museum Support Organization bought a Saab 96 to be rebuilt as a replica of the Group 3 winning racer that was driven by Gösta Karlsson in 1962.
The car was bought at a very competitive price, from Mr. Peter Johansson in Örebro, Sweden. During 2010 and 2016 this car was successfully driven by Peter Nylén in several Swedish Historic Championships races i.e. 1000 cc Cup, and since 2016 the car has been maintained for track day driving..
The aim of this project is that the Museum will be able to exhibit an example of a Group 3 car used during the Saab two-stroke racing era. The fully restored drivable Group 3 car is planned to be exhibited at shows and historical motoring events, and hopefully will assist in attracting further interest towards the Saab Car Museum and enrollment of new members to the Support Organization.
The restoration
After the donor car had been purchased, a long and meticulous work began to re-create the car that Gösta Karlsson so successfully raced with in the 60's. A project group was put together, including lots of benign and competent souls that in different ways contributed to the successful result. Ulf Andersson was nominated as project leader, while Åke Zackrisson took on the role of chief mechanic.
A restoration of this magnitude doesn't only require knowledge and time but also a decent sized bag of money. That so many friendly minded companies and individuals have contributed with both money and important parts has been the key to the success of this project. We want to thank all of you that has been a part of this project of making an important piece of Swedish racing history being preserved at the Saab Car Museum from the bottom of our hearts.
You can read more about the restoration by clicking on the links below.
The premiere
After more than one year of hard labour the final result could be presented for the public just in time for the Saab Car Museum Festival 2019. Specially invited guests were the Gösta Karlsson family, and when Göstas wife sat down behind the wheel, she instantly noted that the rev counter was mounted in the wrong place. Something that naturally has been corrected now. We hope that the car will not only be on display at the Museum but also be able to take part at different motor sport events, where it hopefully also will get a chance to sing properly, because there is something magic with the sound from a tuned two-stroke engine thru a single muffler and then straight pipes ending right in front of the rear axle.
Read more
Click on the links below to follow the restoration step by step and watch the restored car take shape thru the reports made along the way.
Sponsors
NEVS
Lackman AB Uddevalla
Svenska Saabklubben
Bröderna Zackrisson Motor
Håby Sömnad
Vikens Maskin Uddevalla
KAK/ väst
4 S
Mohlins Svets och Smide
Unknown donor
Peter Johansson
Björn Mohlin
Christer Wigren
Inge Ivarsson
Hans Johnsson
Anders Jensen
Hans Eklund
Ulf G Andersson
Hans Svedinger